New CRE Technology
All new Holton Crest machines are now designed with the very latest technology and digital controls, enabling precision parameter control for optimum efficiency.
The Holton Crest philosophy is to always lead with the CRE process as the foundation of our machine design. From 2006 we developed new specifications for all our extruders focussing on our core philosophy. We have designed, built and put into production an improved generation of machines with new technology and digital control that have been installed in multiple configurations throughout the World.
With the new digital controls, we can change running parameters during production, which was previously impossible. With full PLC and near real time control we can improve the process stability for long production runs or, with adaptive control we can now allow it to change process parameters and deliver specific process requirements.
Investment in our research program has enabled us to launch a new software and adaptive control system with a response time of 1 ms that will hold the process to within 10 microns of its optimum position.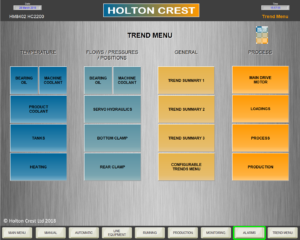 We are now developing artificial intelligence to learn material recipes and running techniques.  The Artificial Intelligence will be able to iteratively adapt the parameters of the process to learn the optimum settings for a particular material whilst requiring only minimal operator input.  Game changing efficiency gains of 20 to 50 percent and more could be achieved.