New machine configurations
Five different extrusion line configurations supplied in the last two years.  Holton Crest delivers solutions tailored to our clients' requirements.
Geographically, Holton Crest systems are installed in Europe, North and South America, at customers where reliability, efficiency and productivity are extremely important for producing their end products. Around one third run specifically with aluminium, one third are for copper processing, and one third are dual systems capable of transforming both metals. All feature our new digital control software.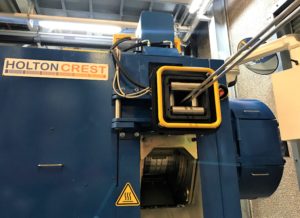 The fruits of our labours have been realised over the last two years, during which we have supplied multiples of five different configurations of our dual axis 'next generation' HC machines, including two large systems, several small ones, and one with particle feed.
Recent machine configurations as supplied:
| | | | |
| --- | --- | --- | --- |
| Machine | Material | Feedstock No./Type | Products No. |
| HC4000 | Al. | 1 | 2 |
| HC2200 | Cu. | 1 | 1 |
| HC2200 | Al. | 2 | 2 |
| HC1100 | Al. | 2 | 1 |
| HC1100 | Al. | Powder | 1 |