Holton Crest at Wire 2018
Holton Crest are exhibiting at Wire 2018 on stand 11H39.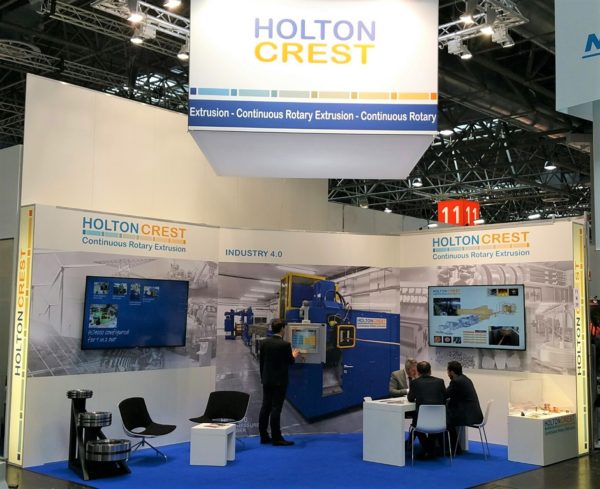 Since showcasing its Continuous Rotary Extrusion (CRE) machine design successfully at wire 2016, UK-based Holton Crest Ltd has embarked on an ambitious development programme to drive continuous improvements in extrusion processes and lead the technological revolution to bring next generation CRE applications to market. By investing in the best technology, talent and engineering skills in partnership with some of the world's leading producers and institutions, Holton Crest has already seen huge success with many different machine configurations being installed all over the World.
At wire 2018, Holton Crest will be showcasing these different machine configurations, along with the latest technology developments to demonstrate how the continuous rotary extrusion industry has progressed over the last two years.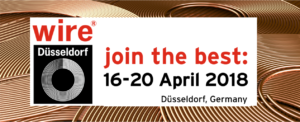 Managing Director Malcolm Ladd says,
"The fruits of our labours have been realised over the last two years, during which we have supplied multiples of five different configurations of our dual axis 'next generation' HC machines, including two large systems, several small ones, and one with particle feed.
The recent configurations include 1 wire in 1 product out, 1 in 2 out, 2 in 1 out, and 2 in 2 out. The 1 in 2 out machine for aluminium in Europe we believe to be the largest single machine CRE contract to date, which really demonstrates our capacity to deliver at the highest level, with many different applications."
As Malcolm continues: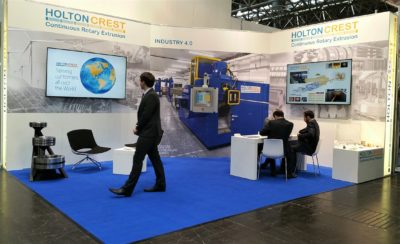 "A lot of our research has been put into the software, user interface and control system, which has enabled us to launch a new software and adaptive control system. We are now working on developing artificial intelligence, which will automatically try alternative settings when running the process in order to learn the optimum settings for a particular material. This makes the process up to 50% more efficient, which could be game-changing for many of our customers."
But this technology is not just exclusively available on new machines – Holton Crest have also been working on a comprehensive future-proofing and modernisation programme of older machines. For example, by introducing digital controls and modernising certain components on a ten year old line, customers could see significant improvements in their production processes by increasing functionality, productivity, efficiencies, coil quality and running speeds.
Knowledge and experience is the foundation on which everything at Holton Crest is built. As specialists in the Continuous Rotary Extrusion market, they are driving the process forward and leading the market with investments in people, skills, technology and R&D to realise the full potential of the CRE process in modern manufacturing.
To find out more, please visit the Holton Crest stand 11H39 at wire 2018.